L. Phillips Carlson ~ publications
Welcome!
Make yourself at home
and feel free to look
around my attic.
I won't mind a bit!


Books and short stories are found here! Please follow links for more information about each offering - and check out the audio snippets!
---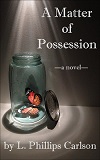 A Matter of Possession
... a paranormal mystery novel

Winner of the 2015 New Mexico-Arizona Book Award for Fiction (Science Fiction-Fantasy)
Joe Shurjack's had a lousy week in St. Louis, and it's not just the weather. First, his flirtatious coworker Bea dies in a car accident. Next, his boss at the PI firm goes crazy and fires most of the staff, including Joe. And then his wife starts acting weird.
What's a newly-licensed private investigator to do? Joe decides to strike out on his own, but soon finds himself chasing a stolen butterfly collection, one with a murderous twist. He's barely working on the case when Bea's ghost manifests—and takes over his wife's body. She tells him someone was out to get her, that it was no mere accident.
Haunted by his own insecurities, Joe struggles to solve the butterfly murder and uncover the well-hidden clues to Bea's demise. What he ultimately learns changes everything—for his clients, his former coworkers, and for him.
Purchase through Amazon:
Paperback | Kindle
---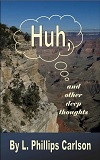 Huh,
And other deep thoughts
... a November 2015 publication
Awe, hope, sorrow, renewal — these are normal feelings for the not-so-normal days in our lives. We struggle at times to keep our humor and a sense of balance. Sometimes we take ourselves too seriously. This little collection of short essays, poems, and prayers are personal moments, yet they reflect the experiences of many. Skip, skim, or ponder deeply — but mostly, enjoy!
Purchase through Amazon:
Paperback | Kindle
---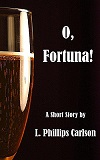 O, Fortuna!
... a fantasy romance short story
College musicians Janelle and Carol share a few laughs when they discover a translation of the great classic work, Carmina Burana. The bawdy, medieval lyrics portray lust and wanton sex, all sung in a variety of archaic languages.
But when the conversation turns personal, Janelle clams up. Her own romance with handsome Turkish-American Yusuf has heated up lately. He comes from a conservative family and thinks she is perfect; and now, he wants an exclusive relationship.
How can she tell him about her past? The answer comes as Janelle, literally, becomes caught up in the mystical strains of the music—
Purchase through Amazon:
Kindle
---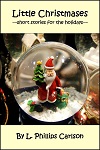 Little Christmases
... holiday short stories with bonus poem
Is holiday prep driving you nuts? You need a break! Grab your favorite beverage and find a quiet corner. This little book of short stories is just for you—to laugh a bit and to remind yourself that holidays don't always go as planned.
"Little Christmases" brings a different perspective to harried preparations; "A Kind Word in a Strange Land" recalls a lonely Christmas made happier by kind Jewish folks; "Christmas Timber" is a true story about an obstinate tree that was difficult to tame. Bonus poem: "Where is Christmas?" focuses on quiet, golden moments. May these make your season feel a little calmer and a little brighter.
Purchase through these links:
Paperback | Kindle | Nook-iTunes-Kobo-Indigo